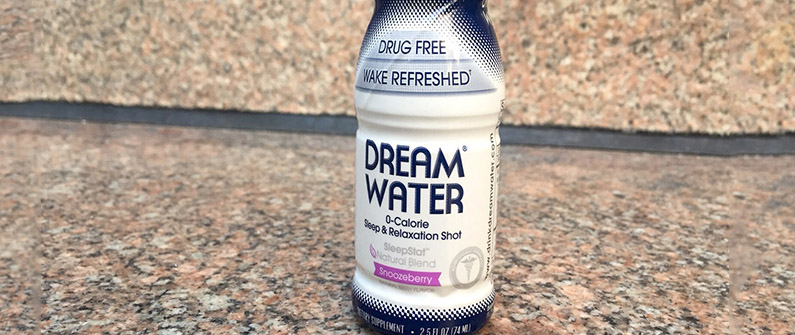 I've tried nearly twenty different sleep supplements over the past 18 months, but I've been missing one right under my nose this whole time. My local bodega (that's a convenience store for you non New Yorkers 🙂 ) has been selling Dream Water next to the cash register for months, and I've failed to pay it much heed until last week (to be fair, it's way overpriced at my corner store).
I've had a lot of success with Food for Sleep in various uses recently, so I figured it'd be good to try another "sleep shot" to compare.
Stated Use
While times may vary by individual, drink a bottle approximately 30 minutes prior to needing help with occasional sleeplessness or wanting to promote relaxation and support restful sleep.
Active Ingredients
Fast Acting SleepStat Natural Blend – 150mg
(like some supplement blends, this one does not list particular amounts of its individual ingredients)
GABA (Gamma-aminobutryic Acid) — This neurotransmitter produced by our brain is directly related to both reducing "excitability" in the nervous system and muscle growth. It's used in some other sleep supplements I'm hoping to try soon.
Melatonin — This is one of my favorite sleep enhancers. It helps me fall asleep faster and experience more restful sleep. I really like melatonin because its effects don't diminish with repeated use (and

studies back up my experience

).

L 5-hydroxytryptophan (5-HTP) — A byproduct of tryptophan, this chemical helps increase the production of serotonin, and has been used to treat insomnia, mood-disorders, migraines and binge eating.
In addition, Dream Water product contains reverse osmosis treated water, sodium acid sulfate, natural flavors, sodium citrate, citric acid, stevia.
*As with any supplement, it's a good idea to consult with your doctor before starting, especially if you are on any other medications.
My Experience
Following the package's instructions, I took the Dream Water shot 30 minutes before bedtime (I tried it on three nights separated by at least a day each, just in case something threw off my experience). It's not a delicious drink by any means, but it's much more palatable than Food for Sleep, and it dilutes fairly well in water. (The version I tried is called Snoozeberry flavor, and it tasted only mildly berry-like.)
While Dream Water doesn't list the amount of individual ingredients in its active blend, I definitely felt the melatonin, as I fell asleep very shortly after my head hit the pillow. Unlike some GABA supplements I've tried, I didn't experience a particularly deep or vivid dream state on the nights I took Dream Water, but I did sleep peacefully for between 7 and 8.5 hours each time. Overall, it felt like a stronger shot than Food for Sleep, though probably not as flexible in its usages, as the I work up a little groggy when I took it and slept for under 8 hours.
Pros
Reduced time to fall asleep

Uninterrupted, deep sleep throughout the night (woke up in the middle of the night once across three nights taking it)

No pill swallowing necessary

Liquid form for fast absorption

Relatively easy to time and take
Cons
Better tasting than some drinkable sleep supplements, but by no means delicious

Can leave you feeling somewhat groggy if sleep is cut short or is under 8 hours
The Final Word
Dream Water is definitely more potent for me than Food for Sleep, one of my go-to sleep supplements (and another in the "shot" category). That makes it good for deep, long nights of rest, but I wouldn't recommend taking it on a red-eye (even though its size is TSA-friendly) or when you might get under 7.5 or 8 hours of sleep. I also wish they'd list the amounts of the individual active ingredients in their proprietary blend, but excluding those is fairly standard for many supplement companies these days.
When you need a fairly potent stack of three solid sleep-inducing ingredients, this is an option I'd highly recommend.